Get Involved
Litter picking
Everything you need to start litter picking in Bristol and help keep the city shipshape and Bristol fashion.
Let's get litter picking!
Have you ever thought about getting together with your neighbours, family or friends to do a community litter pick? Whether you're flying solo or in a group, you can be a clean streets hero and help keep our city shipshape and Bristol fashion.
Litter picks should always be carried out in line with the latest government guidance.
At the moment that means litter picking alone, in pairs or in small groups up to a maximum of 6 people. We can supply up to 6 litter picking sticks and high visibility tabards, lots of bags and a hoop to help keep the bags open.
Litter picking can be a rewarding solo activity or a fun way to meet your neighbours and get involved with the community whilst maintaining physical distancing. There are dozens of established litter picking groups across the city with new ones popping up all the time.
The Autumn Litter Blitz is on!
Overlapping with the national Keep Britain Tidy Great British September Clean, the Bristol Autumn Litter Blitz will see dozens of litter picks happening across the city to help keep our shared space clean and green. Find out how to join in with a fun, safe and physically distanced litter pick.
Join in the Autumn Litter Blitz
Share your results
Every bag of litter and minute of your time helps keep our city clean, green and welcoming for everyone. To help us keep the most accurate data, we rely on residents who regularly litter pick to keep us updated on their progress. Please take a moment after each of your litter picks to fill out the quick litter picking results form.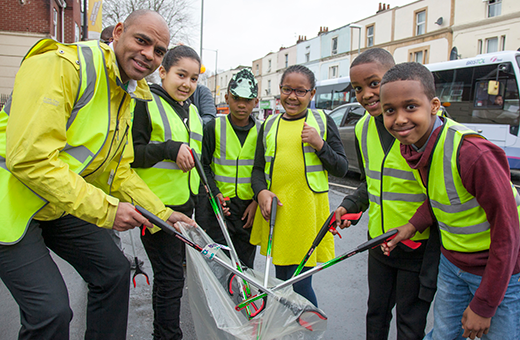 Have a safe litter pick
Litter picking is back! But with a few important changes to keep everyone safe. In keeping with current government guidelines, only individuals, pairs or bubbles of up to 6 people should take part in a litter pick. You should also read our health and safety checklist before organising a litter picking activity.
Health and safety checklist
Ready to get litter picking?
Use the forms below to request a litter picking kit, book a litter collection or share your results. Simply select the name of the form you need from the options below.
What happens next?
Our community engagement team reply to your booking request to arrange collection.
Collect your kit from our community engagement HQ.
Have a fun, safe and rewarding litter pick.
Use the forms on this page to let us know where to collect the waste and share your results.
Arrange to return the kit to community engagement HQ on an agreed day.
Kit collections and returns will be in agreed timeslots on weekdays, but we'll try and work around when is best for you.
Select a form to get started
Request a litter picking kit
Request a long-term litter picking kit
Request more litter picking bags